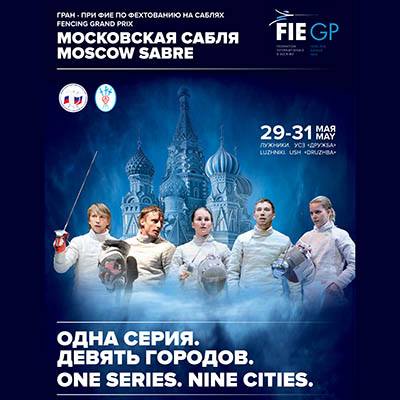 This weekend fencers from around the world continue on the path to Olympic Qualification with the 2015 Moscow Sabre Grand Prix.
The top-16 fencers in each event get to sit and watch who will join them in the final top-64 DE brackets for the elimination matches.
Men's Sabre: Korea looks to continue their dominance of men's sabre – they currently hold the #1 and #2 rankings; the Italians are looking to distance themselves from each other as 3 are clustered together in the top-10.
For the United States, Daryl Homer looks to improve on his FIE top-10 ranking while Eli Dershwitz, fresh off of a FIE Satellite event win, needs to earn more points to put him in contention for an Olympic berth.
Women's Sabre: Olga Kharlan (UKR) has the lock on 1st place in FIE points, but Mariel Zagunis (at #2) and Dagmara Wozniak (at #4) are in position to go home with a win. Well behind Zagunis and Wozniak are Ibtihaj Muhammad and Eliza Stone. Women's Sabre has a team event at the Olympics, so the full four US fencers could travel to Rio as the US team is ranked #1 in the world.
For Olympic qualification, the fencers to watch are those without a strong team backing them, so look out for how Maria Belen Perez Maurice (ARG), Paola Pliego (MEX), and Alejandra Benitez Romero (ARG) fare for the Americas and how Shen Chen (CHN) and Misaki Emura (JPN) finish out of the Asia/Oceana region.
From the FIE:
On Friday 29 May the Russian Fencing Federation in cooperation with the FIE is organising the Men's and Women's individual sabre competitions in Moscow. With 436 days remaining before the Olympic Games Rio 2016, 340 sabre fencers are about to compete at the last Fencing Grand Prix series of the season 2014-2015 on their road for the Olympic qualification. The official venues will welcome representatives from approximately 50 countries.
Competition venue
The Grand Prix Men and Women sabre individual competitions will take place in Moscow at the multipurpose sports complex "Druzhba" (24/5 Luzhnetskaya emb.). The Sports complex "Druzhba" is located at the embankment of the Moscow river, close to Vorobjevy Gory metro station and its shape looks like a starfish.
Competition schedule
Friday – May 29, 2015
11h00 Men's sabre – Preliminary competitions (Preliminary Hall) Pools – ED
Saturday – May 30, 2015
09h00 Women's sabre – Preliminary competitions (Preliminary Hall) Pools – ED
14h00 Men's sabre – Direct elimination T64- T16
18h00 Men's sabre – Opening Ceremony
18h00 Men's sabre- Final T8
Sunday – May 31, 2015
12h00 Women's sabre – Direct elimination T64- T16
17h00 Women's sabre – Final T8
How to watch the Moscow Men's and Women's Saber Grand Prix Online
You can watch the Live stream on the FIE YouTube Channel as well, highlights will be posted on Euronews.
Live Results of the Fencing Grand Prix Moscow sabre 2015 (Women & Men) will be posted to FencingOnline.ru.
Like Moscow FGP on Facebook
Subplots of the Moscow Sabre Grand Prix
SwordSport Productions posted on their Facebook page an early assessment of the Men's Sabre entries:
Only 1 Ukrainian and Brazilian entered – different reasons of course. Only 3 Romanians – Covaliu already decided who will have a chance to go to Rio? A Benin fencer currently ranked in Top 40. Yakimenko's back. Ibragimov is the second highest ranked Russian fencer. Who will accompany Limbach from Germany to Brazil …
The Grand Prix may shake up the rankings a bit – with Men's Sabre being only an individual event, there is a maximum of only 2 fencers from a county qualifying. With Koreans at #1 and #2 in the FIE and 3 Italians in the top-10, every point is precious.
The FIE will be posting updates to this event on Facebook and also on Twitter with hashtag #RoadtoRio and #MoscowFGP