Europe's best fencers are in Switzerland this week at the Montreux Music and Convention Center (2M2C) to compete in the 2015 European Fencing Championships. A good performance at this tournament is vital to the hopes of fencers looking to book at trip to Rio for the 2016 Olympic Games. The championships begin June 5th, 2015 with individual events and the final team event concludes on June 11th.
Along the idyllic shores of Lake Léman, fencers coming out of this event will know much more about their Olympic fates.
This is a key event for qualification to the 2016 Olympic Games in Rio. In Men's Saber and Women's Foil, the individual competition is key. Only the top-12 in the final April FIE rankings are guaranteed a spot – and that is further limited to only two fencers from a country. For the men, that means that the Russians, who boast 4 in the top-16, will be fighting against each other for critical ranking points. Matyas Szabo, who just took 2nd at the Moscow Grand Prix, is ranked 23rd and is the 3rd ranked German. He'll need to repeat his performance now or at the World Championships to keep his Olympic hopes alive.
For women's foil, we may see a Games without Valentina Vezzali (ITA). Even though she's ranked 5th in the world, she's the 3rd Italian so is on the outside looking in. She'll need to place a round better than Elisa DiFrancisca or Arianna Errigo to start closing the gap.
For the teams, the top 4 in the FIE rankings make the Games, and then it's one from each region. In men's epee, Russia and Ukraine are very close – which should prove interesting if both make it to the top-8. For women's saber the battle to watch will be Ukraine vs. Italy as Italy is 5th behind Ukraine today.
Essential Information: 2015 European Fencing Championships: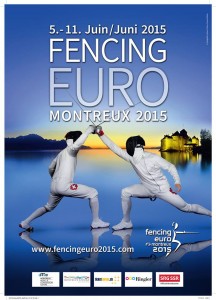 Official website: 2015 European Fencing Championships
Live Video at the: FIE Fencing Channel
Social Media: Twitter | Facebook | Instagram
#EuropeanChampionships #fencing
Schedule of Events:
June 5th:
Men's Foil Prelims and Elimination rounds through round of 64
June 6th:
Men's Foil Elimination rounds and finals
Women's Epee Individual
June 7th:
Women's Saber Individual
Men's Epee Individual
June 8th:
Women's Foil Individual
Men's Saber Individual
June 9th:
Men's Team Foil
Women's Team Epee
June 10th:
Women's Team Saber
Men's Team Epee
June 11th:
Women's Team Foil
Men's Team Saber
The official web site includes estimated times for all semi-final and final matches (in local time.)
Competition Venue
Montreux Music & Convention Centre 2m2c
Centre des Congrès Montreux SA
Avenue Claude Nobs 5
CH – 1820 Montreux